ABOUT #SOSBRUTALISM
#SOSBRUTALISM
#SOSBrutalism is a growing database that currently contains over 2,000 Brutalist buildings. But, more importantly, it is a platform for a large campaign to save our beloved concrete monsters. The buildings in the database marked red are in particular jeopardy. This is an unprecedented initiative: #SOSBrutalism is open to everyone who wants to join the campaign to save Brutalist buildings! It is a powerful tool that allows fans of Brutalism to communicate with one another across Facebook, Twitter, Instagram, Tumblr etc. You can follow our social media feeds below.
…what characterises the New Brutalism…is precisely its brutality, its je-m'en-foutisme, its bloody-mindedness.
#SOSBrutalism has led into an exhibition which has been jointly organized by the Deutsches Architekturmuseum (DAM) and the Wüstenrot Stiftung. It was on display at the DAM, Frankfurt am Main, Germany, from November 9, 2017 until April 2, 2018. With 47,000 visitors it was a great success, including a wide press coverage internationally. Even German prime time TV news made a report.
Afterwards, the exhibition "SOS Brutalism – Save the Concrete Monsters!" travelled to other venues:
Vienna, Architekturzentrum (Az W), May 3 – August 6, 2018
Bochum, Musisches Zentrum, Ruhr University, September 26 – November 24, 2019
Aalen, City Hall, January 31 – March 29, 2020
Taipei, Jut Art Museum, July 4 – November 29, 2020
New Haven, Yale University, August 25 – December 10, 2022
From the Hunstanton School to Concrete Monsters
What exactly is Brutalism anyway? The term was coined in the 1950s by a young generation of architects and architecture critics in Great Britain who used the expression "New Brutalism" to distance themselves from the dreariness of post-war architecture. Architecture critic Reyner Banham described the Hunstanton School by Alison and Peter Smithson (and their unrealized Soho House) as "points of architectural reference by which the New Brutalism in architecture may be defined" and names three characteristics: "1, Memorability as an image; 2, Clear exhibition of structure; and 3, Valuation of materials 'as found'. "
A good ten years later at the suggestion of German architecture critic Jürgen Joedicke, Banham wrote the book "The New Brutalism: Ethic or Aesthetic?". We have marked all the buildings, which feature in it with the hashtag #Banham1966. Banham noted with concern that the "The Johnsons, Johansens and Rudolphs of the American scene" had separated European Brutalism from its ethical roots. Ethics became aesthetics. Which buildings would Banham have dealt with if his book had appeared ten years later? The triumphal march of the #ConcreteMonster had only just begun.
So is every concrete building realized from around 1960 automatically "Brutalist"? How else, after all, would we describe buildings like the Kyoto International Conference Center? In making the selection for this website we have opted for a broad definition and also included many of the #Forerunners, which were built before 1955. We have also added several classics including buildings by Le Corbusier and Louis Kahn, where you are tempted to wonder why they have not long since been classified as Brutalist. Our definition: Brutalist buildings are not always made of concrete. But they are always "rhetorical" in that they blatantly place the focus on their material or sculptural form.
There are still many gaps in this database. We are working on filling them and would welcome assistance in the form of short texts, information about red projects or images showing the current state of buildings. We are especially grateful to all those photographers, who have made their images available to us free of charge. We would also like to thank the team at uncube, the digital magazine for architecture and beyond.
What happens next?
This database serves as the starting point for a campaign to save Brutalist buildings with a hashtag: #SOSBrutalism. If you tag a building #SOSBrutalism on social media it will be brought to our attention and we'll check it for inclusion in our database. Of course, you can also contact us directly as well.
The project wouldn't have been possible without a lot of help from around the world. We would like to thank in particular Guiding Architects, DOCOMOMO International, Soviet Modernism Database by AzW (Vienna), World Monuments Fund, Michael Abrahamson (fuckyeahbrutalism), Shawn Hazen (Chicago Brutalism), This Brutal House, German Post-War Modern, ICONIC HOUSES and Klaas Vermaas, as well as the many people, who contacted us with additional information and images for their support.
SOS Brutalism — A Global Survey
The first-ever global survey of Brutalist architecture from the 1950s to the 1970s
Edited by Oliver Elser, Philip Kurz, Peter Cachola Schmal
Hardback with paperback supplement
716 pages, 1,097 illustrations
German / English versions
Graphic design: Rahlwes.Pietz
Published by Park Books, November 2017 (sold out)
Over 100 contributors document 120 key buildings from this period, including many previously unpublished discoveries that are in acute danger of loss (the "red list"). The book features overviews of Brutalism in twelve regions around the world. Case studies of hotspots such as the Macedonian capital Skopje or New Haven, Connecticut, and essays on the history and theory of Brutalism round out this lavishly illustrated book. The supplement collects papers of an international symposium on Brutalism in architecture held in Berlin in 2012.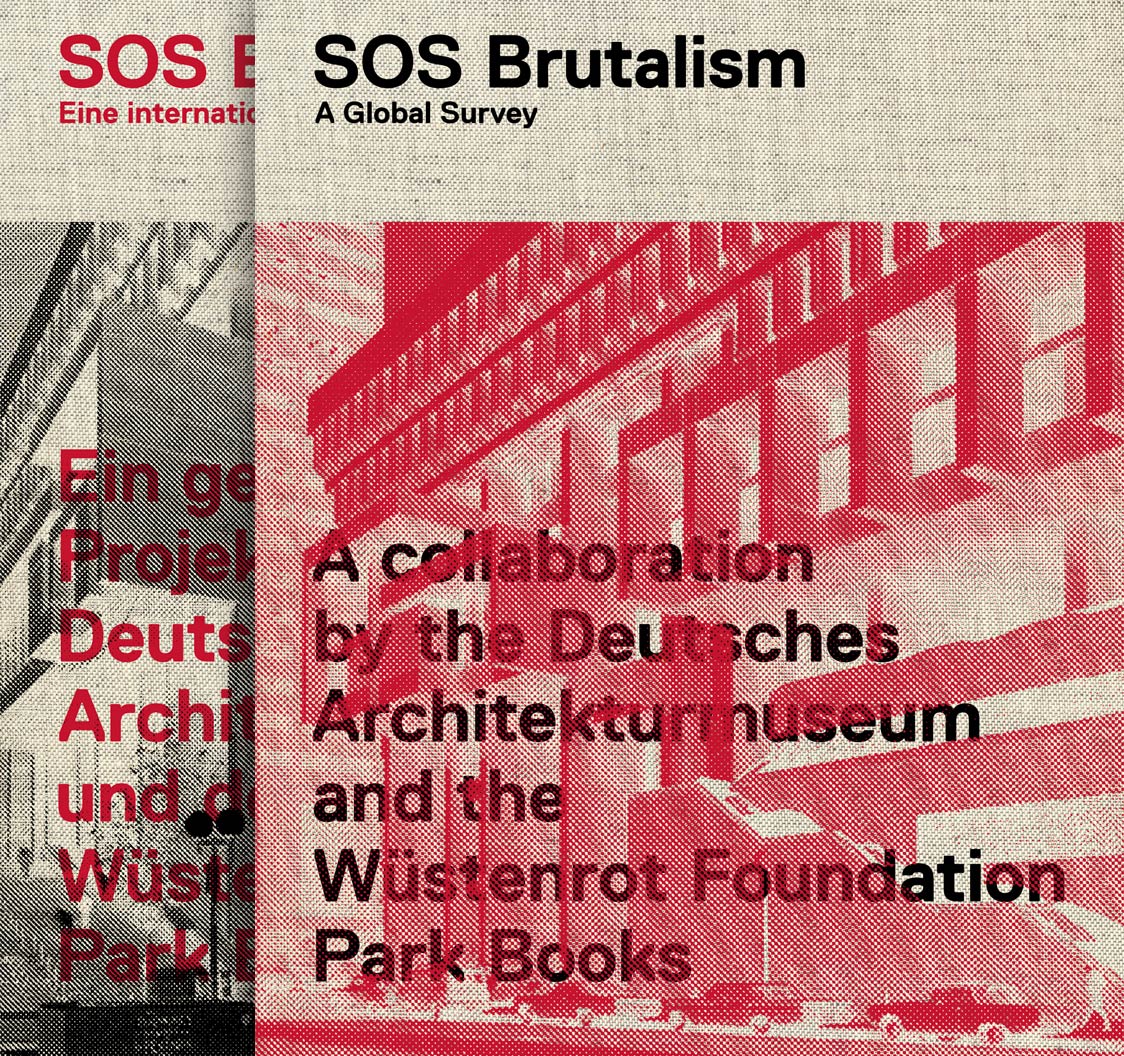 SOS Brutalism
Save the Concrete Monsters!
November 9, 2017 — April 2, 2018
Deutsches Architekturmuseum
Frankfurt am Main, Germany
At the DAM, Brutalism was reexamined with large-scale cardboard models and cast concrete miniatures.
FEATURED PROJECTS
SUPPORT THESE RESCUE CAMPAIGNS
LATEST ADDITIONS
LATEST ADDITIONS ( SAVED • ENDANGERED • LEAST CONCERNED / UNKNOWN )
Call to Action
Anyone who wishes to contribute images, information or texts to this website is welcome to do so. We are particularly interested in information regarding "red" projects since these buildings are greatly endangered!
ENTER PROJECT
help@sosbrutalism.org
You can use the hashtag #SOSBrutalism when you wish to mark a building that you feel is in danger, we will then refer it to the red list. These will then appear on the homepage as well as across our social media feeds.
With a database of this size, there are various intricacies in categorization and classification. The glossary gives a brief overview of the fundamental considerations and helps provide answers to the most frequently asked questions.

Annual figures We try to provide start and end dates for each project. Where start dates are concerned, we differentiate between design and the start of construction. The chronological list is based on the start year (where known). The reason behind this is that in chronology, our prime consideration is establishing where and when ideas surfaced. Here we believe that the start date is more significant than the completion date.

Heritage listings Laws on protection of monuments differ from country to country. Thus England and Wales differentiate, for example, between buildings assigned a Grade I (buildings of exceptional interest), a Grade II* (particularly important buildings of more than special interest) and a Grade II (buildings that are of special interest, warranting every effort to preserve them). As a rule, we categorize heritage-listed buildings as "saved" (blue). However, we are aware that the heritage status alone is not necessarily sufficient to preserve a building in the long term. Where we identify in individual cases that a project has been neglected or poorly renovated despite its heritage listing, we take this into account in the categorization.

Hashtags In order to make the database easier to search through and to highlight interesting correlations, each entry also includes key words labelled with hashtags. You can also carry out direct searches based on these key words and display, for example, all #ConcreteMonster projects.
Some keywords are self-explanatory: #Brick, #BunkerShape, #CastInPlaceConcrete, #ClusterStructure, #ConcreteLandscape, #ConcreteMonster, #EdgeCase, #ExtraSmall, #Highrise, #InfiniteRepetition, #InvertedPyramid, #Iron, #MachineAesthetics, #Megastructure, #Monolith, #PartlyPrivatised, #Plaster, #Precast, #Private, #Public, #Sculptural, #Wood

Other keywords require a little explanation:
#Banham1966 As described in the introduction, the book "The New Brutalism: Ethic or Aesthetic?" (1966) by Reyner Banham is the first and the most fundamental publication on the topic of brutalism. For this reason, all the projects that appear in it are marked with this hashtag.
#FoldedPlate Folded exposed concrete walls were first used by Eugène Freyssinet 1916–1923 for a hangar in Orly. Marcel Breuer advanced the method for St John's Abbey Church in 1950 and in its wake the concept became popular. In the period that followed, this form of wall was applied in a whole series of hall-like buildings.
#Forerunner Some projects in the database perhaps don't look particularly brutalist at first glance. One example is Louis Kahn's Yale Art Gallery, yet such buildings still represent key works which later brutalist architects referred to time and again. Others, like the Goetheanum (1923–1928), date from much earlier, but could perhaps nevertheless be labelled as a kind of "proto-brutalism" when viewed from a brutalist perspective.
#HouseWithAFace In some façade geometries, with a little imagination it is even possible to see the features of a human face!
#LaTouretteType Le Corbusier's La Tourette Monastery was the foundation for an entire architectural style. The most famous building to echo it is Boston City Hall, which builds on the basic structure to create something monumental, and likewise influenced many subsequent projects. Thus plenty of #LaTouretteType candidates could also be labelled with #BostonCityHallType.
#Metabolism In Japan, Metabolism is actually an architectural movement of its own. Here buildings are perceived as organisms and designed as supply systems with metabolic analogies. Some buildings could, however, be described as both brutalist and metabolist.
#MovieSet Buildings that have once served as a film set.
#Pilotis Another structural element Le Corbusier made popular. The idea of a building being elevated was applied time and again as a stylistic device in brutalism.
#Stepped Buildings with terraced storeys.
#TempleType Like the #LaTouretteType, some projects are reminiscent of ancient temples.
#UnitéType Le Corbusier's Unité d'Habitation also inspired a series of similar elevated slab-based high-rises.
For the basic subdivision, we have adopted a system from Emilia Terragni, Helen Thomas (Ed.): 20th-Century World Architecture. The Phaidon Atlas (London 2012):
#COM Commercial Buildings banks, broadcasting facilities, cinemas, conference centres, exhibition centres, factories, farm facilities, markets, mixed-use, nightclubs, offices, research facilities, restaurants, retail, stock exchanges, wineries
#CUL Cultural Buildings art galleries, arts centres, community centres, concert halls, cultural centres, exhibition centres, libraries, memorials, museums, theatres
#EDU Educational Buildings higher education institutes, research facilities, schools, student housing, training facilities, universities
#GOV Government Buildings cultural centres, embassies, government facilities, government resi
#PUB Public Buildings fire stations, medical facilities, planetariums, post offices
#REC Recreational Buildings cinemas, leisure facilities, swimming pools, zoos
#REL Religious Buildings cathedrals, cemeteries, chapels, churches, crematoria, mixed use, monasteries, mosques, schools, temples
#RES Residential Buildings mixed use, multiple housing, orphanages, single houses, social housing
#SPO Sports Buildings gymnasia, stadia
#TOU Tourism Buildings hotels, tourist attractions
#TRA Transport Buildings airports, railway stations, toll buildings
World regions The world regions are subdivided as follows:
IMPRINT
#SOSBrutalism is a non-commercial project from the Deutsches Architekturmuseum and the Wüstenrot Stiftung.
Deutsches Architekturmuseum (DAM)
Schaumainkai 43
60596 Frankfurt am Main
Deutschland
Telefon +49 69 212 38844
Fax +49 69 212 37721
www.dam-online.de
Curator: Oliver Elser
oliver.elser@stadt-frankfurt.de

Technical Implementation
BauNetz Media GmbH / uncube
Schlüterstrasse 42
10707 Berlin
Deutschland
Phone: +49 30 8826300
baunetz@baunetz.de
www.baunetz.de
www.uncubemagazine.com
Copyright
All contet except for images © Deutsches Architekturmuseum, unless otherwise specified.
Image Rights / Takedown Policy
All images on this website are subject to the individually stated copyright or creative commons licences. Every effort has been made to trace and contact the copyright holders of the images and to follow the specific rules of the various creative commons licences. If you think that we have used your images incorrectly in any way, please contact us. We will make sure to remove the concerned images immediately.
oliver.elser@stadt-frankfurt.de / felix.torkar@stadt-frankfurt.de / tiziana.agus@stadt-frankfurt.de
Hashtag
#SOSBrutalism is a free hashtag used across all social media platforms that should only be to communicate endangered brutalist buildings.
Link Disclaimer
#SOSBrutalism does not accept liability for the subject matter of external links. The operators of these sites are solely responsible for their contents.
The administration of SOSBrutalism is located in the Federal Republic of Germany. In the following, the privacy policy is therefore formulated in German:
Datenschutz
Datenschutzerklärung
1 Name und Kontaktdaten des für die Verarbeitung Verantwortlichen sowie des behördlichen Datenschutzbeauftragten
Diese Datenschutz-Information gilt für die Datenverarbeitung durch:
Verantwortlicher:
Deutsches Architekturmuseum (DAM)
Schaumainkai 43
60596 Frankfurt am Main
Deutschland
T+49 (0)69 – 212 388 44
info.dam@stadt-frankfurt.de
Website: www.dam-online.de
Behördlicher Datenschutzbeauftragter:
Referat Datenschutz und Informationssicherheit
Sandgasse 6, 60311 Frankfurt am Main
Tel. 069/212-32888
datenschutz@stadt-frankfurt.de
2 Erhebung und Speicherung personenbezogener Daten sowie Art und Zweck von deren Verwendung
a) Beim Besuch der Website
Beim Aufrufen unserer Website www.dam-online.de werden durch den auf Ihrem Endgerät zum Einsatz kommenden Browser automatisch Informationen an den Server unserer Website gesendet. Diese Informationen werden temporär in einem sog. Logfile gespeichert. Folgende Informationen werden dabei ohne Ihr Zutun erfasst und bis zur automatisierten Löschung gespeichert:
– IP-Adresse des anfragenden Rechners,
– Datum und Uhrzeit des Zugriffs,
– Name und URL der abgerufenen Datei,
– Website, von der aus der Zugriff erfolgt (Referrer-URL),
– verwendeter Browser und ggf. das Betriebssystem Ihres Rechners sowie der Name Ihres Access-Providers.
Die genannten Daten werden durch uns zu folgenden Zwecken verarbeitet:
– Gewährleistung eines reibungslosen Verbindungsaufbaus der Website,
– Gewährleistung einer komfortablen Nutzung unserer Website,
– Auswertung der Systemsicherheit und -stabilität sowie
– zu weiteren administrativen Zwecken.
Die Rechtsgrundlage für die Datenverarbeitung ist Art. 6 Abs. 1 S. 1 lit. f DS-GVO. Unser berechtigtes Interesse folgt aus oben aufgelisteten Zwecken zur Datenerhebung. In keinem Fall verwenden wir die erhobenen Daten zu dem Zweck, Rückschlüsse auf Ihre Person zu ziehen.
Darüber hinaus setzen wir beim Besuch unserer Website Cookies sowie Analysedienste ein. Nähere Erläuterungen dazu erhalten Sie unter den Ziff. 4 und 5 dieser Datenschutzerklärung.
b) Bei Anmeldung für unseren Newsletter
Sofern Sie nach Art. 6 Abs. 1 S. 1 lit. a DS-GVO ausdrücklich eingewilligt haben, verwenden wir Ihre E-Mail-Adresse dafür, Ihnen regelmäßig unseren Newsletter zu übersenden. Für den Empfang des Newsletters ist die Angabe einer E-Mail-Adresse ausreichend.
Die Abmeldung ist jederzeit möglich, zum Beispiel über einen Link am Ende eines jeden Newsletters. Alternativ können Sie Ihren Abmeldewunsch gerne auch jederzeit info.dam@stadt-frankfurt.de per E-Mail senden.
3 Weitergabe von Daten
Eine Übermittlung Ihrer persönlichen Daten an Dritte zu anderen als den im Folgenden aufgeführten Zwecken findet nicht statt.
Wir geben Ihre persönlichen Daten nur an Dritte weiter, wenn:
– Sie Ihre nach Art. 6 Abs. 1 S. 1 lit. a DS-GVO ausdrückliche Einwilligung dazu erteilt haben,
– die Weitergabe nach Art. 6 Abs. 1 S. 1 lit. f DS-GVO zur Geltendmachung, Ausübung oder Verteidigung von Rechtsansprüchen erforderlich ist und kein Grund zur Annahme besteht, dass Sie ein überwiegendes schutzwürdiges Interesse an der Nichtweitergabe Ihrer Daten haben,
– für den Fall, dass für die Weitergabe nach Art. 6 Abs. 1 S. 1 lit. c DS-GVO eine gesetzliche Verpflichtung besteht, sowie
– dies gesetzlich zulässig und nach Art. 6 Abs. 1 S. 1 lit. b DS-GVO für die Abwicklung von Vertragsverhältnissen mit Ihnen erforderlich ist.
4 Cookies
Wir setzen auf unserer Seite Cookies ein. Hierbei handelt es sich um kleine Dateien, die Ihr Browser automatisch erstellt und die auf Ihrem Endgerät (Laptop, Tablet, Smartphone o.ä.) gespeichert werden, wenn Sie unsere Seite besuchen. Cookies richten auf Ihrem Endgerät keinen Schaden an, enthalten keine Viren, Trojaner oder sonstige Schadsoftware.
In dem Cookie werden Informationen abgelegt, die sich jeweils im Zusammenhang mit dem spezifisch eingesetzten Endgerät ergeben. Dies bedeutet jedoch nicht, dass wir dadurch unmittelbar Kenntnis von Ihrer Identität erhalten.
Der Einsatz von Cookies dient einerseits dazu, die Nutzung unseres Angebots für Sie angenehmer zu gestalten. So setzen wir sogenannte Session-Cookies ein, um zu erkennen, dass Sie einzelne Seiten unserer Website bereits besucht haben. Diese werden nach Verlassen unserer Seite automatisch gelöscht.
Darüber hinaus setzen wir ebenfalls zur Optimierung der Benutzerfreundlichkeit temporäre Cookies ein, die für einen bestimmten festgelegten Zeitraum auf Ihrem Endgerät gespeichert werden. Besuchen Sie unsere Seite erneut, um unsere Dienste in Anspruch zu nehmen, wird automatisch erkannt, dass Sie bereits bei uns waren und welche Eingaben und Einstellungen sie getätigt haben, um diese nicht noch einmal eingeben zu müssen.
Zum anderen setzten wir Cookies ein, um die Nutzung unserer Website statistisch zu erfassen und zum Zwecke der Optimierung unseres Angebotes für Sie auszuwerten (siehe Ziff. 5). Diese Cookies ermöglichen es uns, bei einem erneuten Besuch unserer Seite automatisch zu erkennen, dass Sie bereits bei uns waren. Diese Cookies werden nach einer jeweils definierten Zeit automatisch gelöscht.
Die durch Cookies verarbeiteten Daten sind für die genannten Zwecke zur Wahrung unserer berechtigten Interessen sowie der Dritter nach Art. 6 Abs. 1 S. 1 lit. f DS-GVO erforderlich.
Die meisten Browser akzeptieren Cookies automatisch. Sie können Ihren Browser jedoch so konfigurieren, dass keine Cookies auf Ihrem Computer gespeichert werden oder stets ein Hinweis erscheint, bevor ein neuer Cookie angelegt wird. Die vollständige Deaktivierung von Cookies kann jedoch dazu führen, dass Sie nicht alle Funktionen unserer Website nutzen können.
5 Analyse-Tool
Webtrekk
Wir setzen auf unserer Seite Komponenten der Webtrekk GmbH, Robert-Koch-Platz 4, 10115 Berlin, ein. Bei jedem einzelnen Aufruf unserer Seite werden durch diese Komponente Daten zu Marketing- und Optimierungszwecken gesammelt und gespeichert, aus denen sodann durch den Einsatz von Cookies unter einem Pseudonym Nutzungsprofile erstellt werden können. Diese Nutzungsprofile können der Analyse des Besucherverhaltens dienen und können zur Verbesserung und bedarfsgerechten Gestaltung unseres Internetangebots ausgewertet werden. Cookies sind kleine Textdateien, die lokal im Zwischenspeicher des Internet-Browsers des Besuchers gespeichert werden, um so die Wiedererkennung des Internet-Browsers des Besuchers zu ermöglichen. Die auf diesem Wege erhobenen Daten werden ohne die gesondert erteilte ausdrückliche Zustimmung des Besuchers nicht dazu benutzt, den Besucher unserer Website persönlich zu identifizieren. Zudem werden diese Daten nicht mit personenbezogenen Daten und nicht mit Daten über den Träger des Pseudonyms zusammengeführt. Dieser Datenerhebung und Datenspeicherung kann jederzeit mit Wirkung für die Zukunft widersprochen werden. Um der Speicherung Ihrer Daten zu widersprechen, rufen Sie bitte diese Seite auf https://www.webtrekk.com/de/index/opt-out-webtrekk/abmeldung-vom-tracking/
Nach Ihrem Widerspruch wird ein Opt-Out-Cookie auf Ihrem Endgerät abgelegt. Löschen Sie Ihre Cookies, müssen Sie den Link erneut klicken.
6. Google-Maps
Wir setzen auf unserer Seite die Komponente "Google Maps" der Firma Google Inc., 1600 Amphitheatre Parkway, Mountain View, CA 94043 USA, nachfolgend "Google", ein.
Bei jedem einzelnen Aufruf der Komponente "Google Maps" wird von Google ein Cookie gesetzt, um bei der Anzeige der Seite, auf der die Komponente "Google Maps" integriert ist, Nutzereinstellungen und -daten zu verarbeiten. Dieses Cookie wird im Regelfall nicht durch das Schließen des Browsers gelöscht, sondern läuft nach einer bestimmten Zeit ab, soweit es nicht von Ihnen zuvor manuell gelöscht wird.
Wenn Sie mit dieser Verarbeitung Ihrer Daten nicht einverstanden sind, so besteht die Möglichkeit, den Service von "Google Maps" zu deaktivieren und auf diesem Weg die Übertragung von Daten an Google zu verhindern. Dazu müssen Sie die Java-Script-Funktion in Ihrem Browser deaktivieren. Wir weisen Sie jedoch darauf hin, dass Sie in diesem Fall die "Google Maps" nicht oder nur eingeschränkt nutzen können.
Die Nutzung von "Google Maps" und der über "Google Maps" erlangten Informationen erfolgt gemäß den Google-Nutzungsbedingungen
https://policies.google.com/terms?hl=de&gl=de
sowie der zusätzlichen Geschäftsbedingungen für "Google Maps"
https://www.google.com/intl/de_de/help/terms_maps.html.
7 Betroffenenrechte
Sie haben das Recht:
– gemäß Art. 15 DS-GVO Auskunft über Ihre von uns verarbeiteten personenbezogenen Daten zu verlangen. Insbesondere können Sie Auskunft über die Verarbeitungszwecke, die Kategorie der personenbezogenen Daten, die Kategorien von Empfängern, gegenüber denen Ihre Daten offengelegt wurden oder werden, die geplante Speicherdauer, das Bestehen eines Rechts auf Berichtigung, Löschung, Einschränkung der Verarbeitung oder Widerspruch, das Bestehen eines Beschwerderechts, die Herkunft ihrer Daten, sofern diese nicht bei uns erhoben wurden, sowie über das Bestehen einer automatisierten Entscheidungsfindung einschließlich Profiling und ggf. aussagekräftigen Informationen zu deren Einzelheiten verlangen;
– gemäß Art. 16 DS-GVO unverzüglich die Berichtigung unrichtiger oder Vervollständigung Ihrer bei uns gespeicherten personenbezogenen Daten zu verlangen;
– gemäß Art. 17 DS-GVO die Löschung Ihrer bei uns gespeicherten personenbezogenen Daten zu verlangen, soweit nicht die Verarbeitung zur Ausübung des Rechts auf freie Meinungsäußerung und Information, zur Erfüllung einer rechtlichen Verpflichtung, aus Gründen des öffentlichen Interesses oder zur Geltendmachung, Ausübung oder Verteidigung von Rechtsansprüchen erforderlich ist;
– gemäß Art. 18 DS-GVO die Einschränkung der Verarbeitung Ihrer personenbezogenen Daten zu verlangen, soweit die Richtigkeit der Daten von Ihnen bestritten wird, die Verarbeitung unrechtmäßig ist, Sie aber deren Löschung ablehnen und wir die Daten nicht mehr benötigen, Sie jedoch diese zur Geltendmachung, Ausübung oder Verteidigung von Rechtsansprüchen benötigen oder Sie gemäß Art. 21 DS-GVO Widerspruch gegen die Verarbeitung eingelegt haben;
– gemäß Art. 20 DS-GVO Ihre personenbezogenen Daten, die Sie uns bereitgestellt haben, in einem strukturierten, gängigen und maschinenlesebaren Format zu erhalten oder die Übermittlung an einen anderen Verantwortlichen zu verlangen;
– gemäß Art. 7 Abs. 3 DS-GVO Ihre einmal erteilte Einwilligung jederzeit gegenüber uns zu widerrufen. Dies hat zur Folge, dass wir die Datenverarbeitung, die auf dieser Einwilligung beruhte, für die Zukunft nicht mehr fortführen dürfen und
– gemäß Art. 77 DS-GVO sich bei der zuständigen Aufsichtsbehörde zu beschweren. Die zuständige Aufsichtsbehörde ist: Der Hessische Datenschutzbeauftragte, Postfach 3163, 65021 Wiesbaden, Telefon: 0611/1408 – 0, poststelle@datenschutz-hessen.de
8 Widerspruchsrecht
Sofern Ihre personenbezogenen Daten auf Grundlage von berechtigten Interessen gemäß Art. 6 Abs. 1 S. 1 lit. f DS-GVO verarbeitet werden, haben Sie das Recht, gemäß Art. 21 DS-GVO Widerspruch gegen die Verarbeitung Ihrer personen- bezogenen Daten einzulegen, soweit dafür Gründe vorliegen, die sich aus Ihrer besonderen Situation ergeben oder sich der Widerspruch gegen Direktwerbung richtet. Im letzteren Fall haben Sie ein generelles Widerspruchsrecht, das ohne Angabe einer besonderen Situation von uns umgesetzt wird.
Möchten Sie von Ihrem Widerrufs- oder Widerspruchsrecht Gebrauch machen, genügt eine E-Mail an info.dam@stadt-frankfurt.de
9 Datensicherheit
Wir verwenden innerhalb des Website-Besuchs das verbreitete SSL-Verfahren (Secure Socket Layer) in Verbindung mit der jeweils höchsten Verschlüsselungsstufe, die von Ihrem Browser unterstützt wird. In der Regel handelt es sich dabei um eine 256 Bit Verschlüsselung. Falls Ihr Browser keine 256-Bit Verschlüsselung unterstützt, greifen wir stattdessen auf 128-Bit v3 Technologie zurück. Ob eine einzelne Seite unseres Internetauftrittes verschlüsselt übertragen wird, erkennen Sie an der geschlossenen Darstellung des Schüssel- beziehungsweise Schloss-Symbols in der unteren Statusleiste Ihres Browsers.
Wir bedienen uns im Übrigen geeigneter technischer und organisatorischer Sicherheitsmaßnahmen, um Ihre Daten gegen zufällige oder vorsätzliche Manipulationen, teilweisen oder vollständigen Verlust, Zerstörung oder gegen den unbefugten Zugriff Dritter zu schützen. Unsere Sicherheitsmaßnahmen werden entsprechend der technologischen Entwicklung fortlaufend verbessert.
10 Aktualität und Änderung dieser Datenschutzerklärung
Diese Datenschutzerklärung ist aktuell gültig und hat den Stand Januar 2021.
Durch die Weiterentwicklung unserer Website und Angebote darüber oder aufgrund geänderter gesetzlicher beziehungsweise behördlicher Vorgaben kann es notwendig werden, diese Datenschutzerklärung zu ändern. Die jeweils aktuelle Datenschutzerklärung kann jederzeit auf der Webseite unter https://www.sosbrutalism.org/sixcms/detail.php?template=det_brutal_privacy von Ihnen abgerufen und ausgedruckt werden.